Leadership teams wanting to bring about any kind of change in schools right now may be (understandably) met with resistance from the educators in their school community. Any kind of change—continuous improvement, strategic implementation of new initiatives, new or updated curriculum, shifts in the makeup of the student body, new schools or attendance boundary changes, and so much more—can cause anxiety for everyone. One powerful way to bring the community together during the change process is using picture books. I recommend carefully choosing one book, one theme, or one author to use as your anchor for the school year or even for the entire change process. Other picture books can be used for stand-alone staff development sessions, as well as to get a conversation going, especially on particularly difficult topics.
Sit in a circle and read the book aloud to your group. If you have a large staff, consider bringing them together in smaller groups so you can have a rich discussion about the content of the text, the illustrations within the book, and the connections that can be made to the larger goals. At first, this may feel uncomfortable for adults if they haven't had experience using short texts for adult learning and development. When facilitating, it can be helpful to be genuinely enthusiastic about sharing the story, reminding staff that picture books are really everybody books as they serve to open up conversation.

Most importantly, the story can be an anchor to the work, serving as points we can refer back to when having other more difficult conversations throughout the year or the staff development workshop.
The following are some examples to help you get started in choosing titles that might work for you and your leadership team's goals.
---
Titles to Support Long-Term Change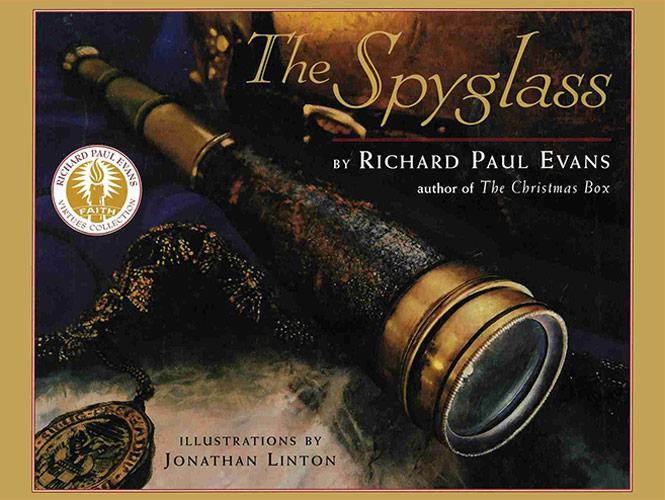 The Spyglass: A Story About Faith
by Richard Paul Evans
Spyglass is an older title and you may need to visit your used bookstore to find it, but it can be effective for organizations trying to make big changes. In the story, we find a kingdom that is in disarray. The buildings are crumbling, people are discouraged, and the crops are failing.  A traveler arrives at the king's palace with an enchanted spyglass that shows the kingdom not as it is, but as it could be. This inspires the king to share the vision, through the spyglass, with his citizens. Together (a key point), the king and his subjects work to restore the kingdom to its previous glory. A few lessons emerged as we used this text during a literacy redesign:
Leaders must learn and work alongside educators.
We don't have to look to other organizations to do the work; we can cast a vision and use the brilliance already "in the room" to make it happen.
Change takes time, but we need to keep the vision in focus and keep going.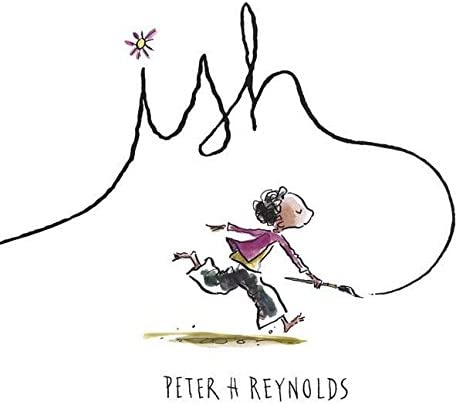 Ish
by Peter Reynolds
Ish tells the story of Ramon who loves to draw, but his older brother laughs at one of the pictures and points out that it doesn't look like a real vase of flowers, so Ramon crumples up all of his drawings and becomes discouraged. Later, Ramon finds his crumpled drawings up on his sister's bedroom walls. She declares that the vase looks "vase-ISH." Ramon becomes inspired, looking at the world in a different way, and begins creating "ish art." We used this book to remind us of some key points as we were shifting our ELA curriculum to an inquiry approach:
We don't have to be perfect as we try new approaches in our classroom.
Encouragement (not judgement) unleashes creativity.
---
Professional Learning Workshop Books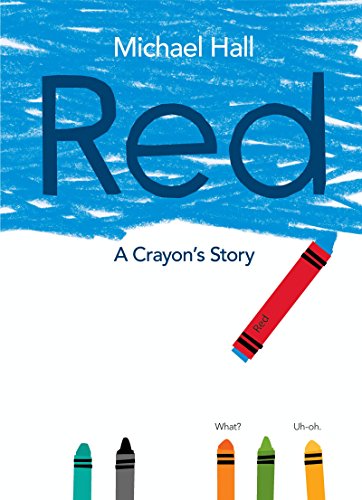 Red: A Crayon's Story
by Michael Hall
The crayon known as Red is feeling down. You might say he's feeling blue. No matter how hard he tries, he cannot draw anything red. His teacher wants him to draw strawberries. He cannot. His mom tries to help him by sending him out on a playdate with Yellow to draw an orange. He cannot. As a last resort, the scissors try to help out by snipping Red's paper label, giving him more room to breathe. But nothing works. Then Purple draws a boat and asks Red to draw a nice blue ocean for the boat. Red insists he can't, but Purple insists he can. So Red begins drawing and surprisingly the color blue appears! We used this book in a staff development on responsive instruction and it helped to remind us:
to not teach to student labels assuming they "can't" but instead seek what they CAN do;
to recognize and set aside our own preconceived notions about students and see each student's individual strengths and gifts.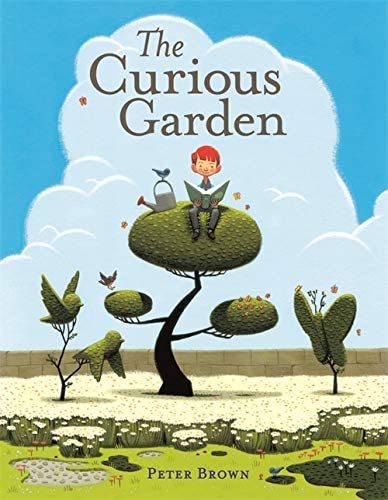 The Curious Garden
by Peter Brown
The Curious Garden shares the story of young Liam who discovers a hidden garden on an abandoned railway in his city. He is curious about how beauty has emerged where it isn't supposed to be, and he sets out to be a "gardener." At first, he isn't sure what to do, but he keeps investigating and learning. Through his care, he spreads color throughout the gray city. Perhaps the biggest surprise for Liam is when other gardeners follow his lead. We used this text often as we introduced inquiry to educators. Some ideas we learned include:
We don't have to know everything to get started.
Leading by example is the best way to lead.
Spend considerable time observing and being curious.
---
Promising New Titles
The following are new titles that could be great conversation tools for educators: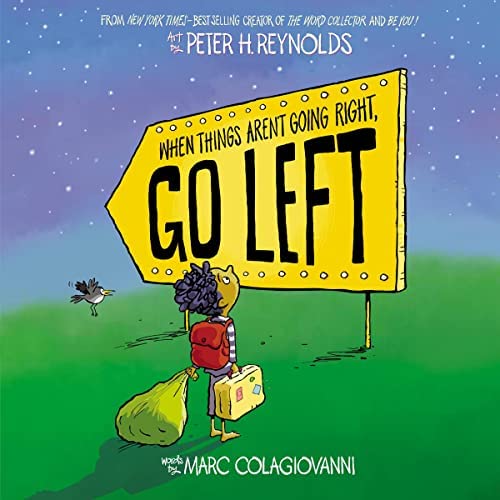 When Things Aren't Going Right, Go Left
by Marc Colagiovanni
I am so excited for this book to be released. According to the publisher, "Told through creative language play, and with depth and whimsy, this picture book reminds readers of their own agency and the power they have to direct their own path. Marc Colagiovanni's lyrical text and Peter H. Reynolds's stunning art create an enduring message of strength and perseverance that is both universal and personal, and one that readers will be drawn to over and over again." In a time when so much can feel out of educators' control, this book serves as a tool to remind us to find ways to keep going and be empowered to have control over our circumstances.
Dear Reader: A Love Letter to Libraries
by Tiffany Rose
The publisher tells us, "A voracious young reader loves nothing more than going to the library and poring through books all day, making friends with characters and going off on exciting adventures with them. However, the more she reads, the more she notices that most of the books don't have characters that look like her, and the only ones that do tell about the most painful parts of their history." While this might be a love letter to publishers to create more representative stories for our young people, it can also serve as a reminder for educators as we lesson plan to ensure we are using multiple perspectives and rich resources for student learning.
---
The best part of using picture books with adults is that it serves as a model for using these kinds of resources with students.  I found that using picture books with my high school English students gave me opportunities to hear high-level thinking from many of them. Some of my favorite memories with our community can be traced back to the times when we read together.
For more on picture books in the classroom, visit Kia Heise's series Complex Books, In Context and Lindsay Simmons' Using Picture Books to Engage in STEM/STEAM.