In our quest to provide diverse and inclusive texts to our students, we must also be intentional about how we use texts that address social inequality issues. If we use our lessons to only focus on the characters or the craft, we miss an important opportunity to help them understand the world around them. When we lean into the complexity of a book, young people can begin to develop skills for learning about all kinds of complicated realities. We cannot prepare our students to actively engage in complex conversations if we avoid the tough stuff in our classrooms. Students, like everyone else, need to practice this skill. One clear way we can support them is by helping them learn to see the social context surrounding a story, whether that story is in a picture book or YA novel. To "zoom out" on any text, ask the following questions and collect resources on the historical, political, and cultural contexts. (Some of the resources you collect can be for students, but some can just be for you and your colleagues, to provide some grounding for the discussion and prepare for questions students may ask.)
What background information is important to know about in order for us to really understand what's going on in this story? (terms, concepts, historical events, statistics)

Are there laws or policies relevant to this story that we should know about? Are there social movements that have focused on the issues in this story?

What cultural beliefs (ideas, norms, stereotypes) should we be familiar with in order to truly understand the story? 
So far, I have developed five specific guides for navigating complex conversations about books with your students in the classroom. 
---
In this book, August, a 10-year old boy with a genetic facial difference, enters school for the first time in fifth grade, after being homeschooled. He faces bullying and ostracization from some of the children and the adults, while also forming close relationships with new friends who help him navigate this new environment. While Wonder  is not a "controversial" book per se, it covers complex topics that deserve a deeper dive. It is a feel-good story of friendship and resilience, but if those are the only themes we pull from it for our students, we are missing an important opportunity to introduce them to ableism, disability rights activism, or other engaging inequality topics. With a "zoomed out" approach, students can walk away with a much more nuanced lesson than simply "be nice to everyone." Here is a model for how you might begin to collect resources based on the guiding questions above.
---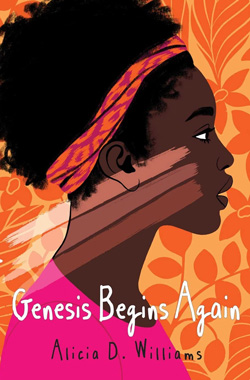 Genesis Begins Again  tells the powerful story of a thirteen-year-old struggling to overcome internalized racism and an unstable family life as she learns to love herself. The book offers several opportunities to explore tough social issues with your students–eviction, bullying, colorism, stigma, self-harm, mental health, addiction, verbal abuse, and family trauma–through the lens of a very relatable middle school character. Use the examples below as a guide to help you facilitate these types of conversations in a way that disrupts stereotypes and allows students to see the big picture.
---
Here, I'm zooming out on  The 57 Bus–a nonfiction narrative accounting, written by journalist Dashka Slater. It is an excellent example of a book that provides the opportunity for students to get comfortable with complexity, by allowing them to empathize with multiple unique perspectives at one time. The story follows the aftermath of an attack on Sasha (a white agender teenager) by Richard (a black male teenager) on a bus in Oakland, California. It explores gender and sexuality diversity, the threat of violence LGBTQ people face for simply existing in public space, and racial injustices in the criminal justice system. It allows students to go beyond the news coverage of such an event and come away with a deep understanding of both young people involved as they navigate the long-term effects of this horrible day. If we zoom out on these themes, we can create conditions for our students to discover how our racial, class, and gender identities intersect to influence our life experiences and opportunities.
---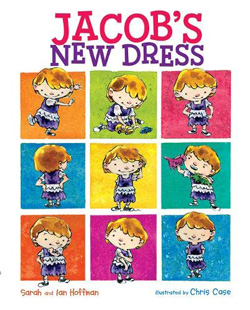 Jacob's New Dress, written by Sarah and Ian Hoffman and illustrated by Chris Case, is a heartwarming and honest story about a little boy who wants to wear a dress to school and how the adults and other children in his life react to his gender-bending fashion choice. I love how this book allows readers to really experience all the different emotions through the eyes of small children. It brings such an empathetic and authentic voice to an issue that elicits so much anger in the adult world. Use the guide below to "zoom out" and create an inclusive space for talking about gender diversity with your students.
---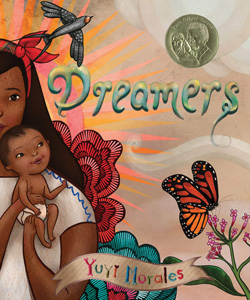 Dreamers  is a poetic picture book about the author's experience coming to the U.S. from Mexico in the 1990s. We see a mother carry her tiny baby across the border, overwhelmed with learning how to navigate a place where she does not speak the language or know all the rules. She discovers a library and finds a connection point that allows her and her son to explore and learn and grow.
---
If you have a complex book you would like to see a conversation guide created, let us know at mackinlearning@mackin.com. We might be able to include it in an upcoming blog.